How to navigate your child's screen time - with the help of Natterhub Home!
Here at Natterhub our overarching ethos is to elevate online safety learning for children, both in schools and at home. We know that you worry about your child's wellbeing online, and this is completely understandable. The ever-changing technological world can be intimidating and overwhelming. From YouTube to TikTok, it can be difficult to understand the different kinds of social media apps that your child interacts with, as well as the dangers that may lurk beneath the surface of some of these platforms. However, we're here to help. Our expert program of interactive lessons and activities provides the knowledge and skills your child needs to stay safe. We cover all the critical topics of greatest concern to you, such as:
Preparing your child for a future of social media and interaction.

Teaching your child how to behave appropriately online.

Ensuring your child stays safe, whether that's when they're gaming or in group chats.

Teaching your child how to spot fake news and scams.

Making sure that your child understands the importance of screen time limits.

Explaining how and when your child needs to report issues online.

What is screen time?
Today, we're going to be focusing on a specific topic that can often be tricky to navigate, and that topic is screen time. Screen time can be defined as the amount of time spent using a device with a screen. This can be a smartphone, computer, televisions, video games or tablets. People can have varying levels of screen time depending on their jobs or their day-to-day lives, but we will be discussing children's screen time in particular, in this post.
The concept of screen time is a new phenomenon, and it's under significant research due to the fact that, typically, high screen time can correlate with mental and physical harm to children's mental health, as well as their development. Setting screen-time rules can often cause problems when it comes to familial relationships, especially because children can feel angry if they are constantly told to come to the end of their screen time, as this can create tension.
Here at Natterhub, we're keen to flip the approach to screen time into something more positive and successful, and we aim to encourage the importance of a healthy relationship with technology. It's extremely important to have a set of screen time guidelines that you and your child can follow, but instead of saying 'no', or repeating instructions every five minutes, we'd like to advise you with a range of fantastic tips that you can follow to reduce any frustrations. Children may see the ending of screen time as the end of their 'fun time', especially if their game is being cut short, or if a chat is being ended abruptly. So, with these thoughts in mind, let's get into a few top tips that you can follow to improve this situation.
Natterhub's top five tips for navigating your child's screen time:
Be a role model: Children can often mimic their parents' or guardians behaviour. If you are distracted by your phone, or not present in conversations because of it, you may want to implement a rule for yourself that your technological devices should be put away when you are spending time with your children, even if this rule isn't directly applicable to them. This will help you to lead by example and limit your own screen time as well, which will help you to be there for your child if they would like to chat or play a game with you. Of course, there are times when you will need your mobile or you might want to watch something on the television, but setting an example for your children will help you to stay aware of both your screen time, and theirs!
Provide fun alternative activities and set them out for your children: When children get dopamine from their screen time, everything else may begin to feel a little dull. The instant serotonin of getting likes on Instagram or winning a video game may discourage children from reading books or playing board games, but it's crucial that the reliance on technology is prevented as much as possible! Why not create an offline calendar that you and your children can make together? This could include making yummy treats together, playing outdoors, going on a bike ride, doing arts and crafts, and so much more! Not only will this place importance on the offline activities, but you will create some wonderful memories together too!
Join in: Although it may seem counterproductive to encourage your children to use up their screen time, showing an interest in what they're doing can reassure them that you're taking an active interest in their hobbies and activities. Whether they've become amazing at a particular game on their tablet, or if they're using a fun software to create some beautiful drawings, showing that you're interested can mean that your children will see you as part of the experience rather than the person always taking them away. It is of course important to set boundaries, but being flexible and understanding when it comes to their screen time is also really important!
Set appropriate and realistic boundaries: Although we may not want to face reality, our children will grow up in a technological world, and by the time they are adults, they will most likely be extremely technologically advanced. This means that children will want to spend time on their technological devices, even if they know the risks or negatives. So, with that in mind, make sure to create realistic boundaries with screen time that allow your children to chat with their friends online, and become more technologically aware. To be realistic, setting a screen time limit of five or ten minutes a day probably isn't going to last very long and may just cause problems in the long run, so make sure to discuss the limit with your child and make sure that they are able to complete any important tasks on their devices, such as homework tasks!
Talk about the effects of excessive screen time: Having open and honest conversations with your child about the impact of screen time on physical and mental health, as well as their social life or academic performance, may help them to understand more about the importance of screen time limits. Children will appreciate being spoken to in a mature way about a topic that is involved in all of our lives, and allowing them to ask open questions will create a healthy relationship surrounding the topic, while encouraging technological boundaries too!
It's also good to keep in mind that the goal is not to eliminate screens entirely but to create a healthy balance between screen time and other activities in your child's life. By being involved in these activities away from the phone and encouraging a variety of interests, you can help them develop a well-rounded lifestyle with less dependence on screens.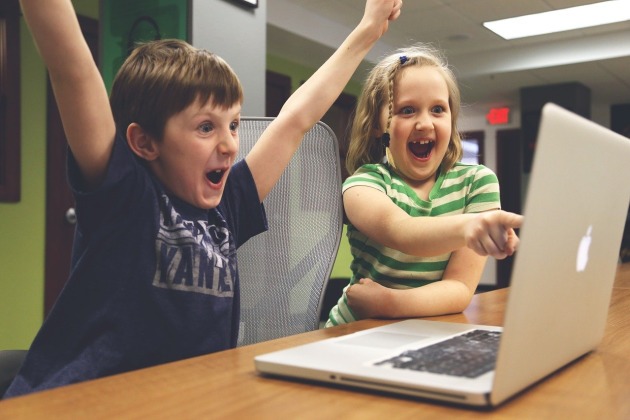 How can Natterhub Home help with my child's screen time?
So, whether you're beginning a digital journey with your child, or if you're currently in the process of navigating one, Natterhub Home is here to help. Natterhub Home can be used as an incentive to help your child become technologically aware, while increasing their digital literacy skills and having fun at the same time! Sounds good? Read on for more.
Natterhub Home is a program of lessons that your child can work through to learn to be safe, savvy and kind online. The program teaches your child essential digital life skills that can prevent online vulnerability and protect their wellbeing. One of the greatest things about Natterhub Home is that your child's good behaviour gets rewarded, and the personalised rewards in Natterhub Home keep your child motivated to progress and keep learning! Once you have set a specific reward, whether that's an increased level of screen time or a delicious treat, they will be on a mission to earn the reward. There are three key steps to the Natterhub program, which are the following:
Every completed lesson earns a star, which can be counted as a reward.

Extra stars can be earned using the Quiz Randomiser, which is like an additional reward for additional activities!

The size of the reward for completed lessons is chosen at the outset, which means that you can personalise the reward depending on whatever you'd like it to be!
Natterhub Home aligns with the 'yes' approach that we have discussed in this blog, as the conversation around screen time is to create a balance between screen time and other activities, as opposed to the complete elimination of screen time! This will also empower your child to understand the dangers online and make better choices when they are using their devices. It also provides a great prompt for your chats because the lessons will undoubtedly get them thinking about online safety!
And there we have it, a range of different tips and tricks to help you to navigate your child's online experiences, in particular, their screen time! We'd like to finish off this blog with a statement from Natterhub's co-founder, Caroline Allams.
"Empowering our children in digital environments is a modern-day imperative; it's as important as the values and teachings we as parents impart in their physical world. By instilling critical thinking skills early on, we prepare our little ones for a positive digital journey. We introduced Natterhub Home to support parents in bridging the gap between the online and offline worlds. It's a home education for children aged 5-11 years that prepares them for first devices and digital independence."
For more information, or if you have any questions about any of the topics we have discussed in this blog, check out Natterhub Home.